Marcel asked:
>http://bottlenose.com/
>anyone with experiences and opinions about it?
Definitely worth trying–it focuses on your network in order to pull more interesting stuff to the fore. I put it in my bookmar bar when I first encountered it — it was briefly useful (slowed down the stream, found things that my network had heavily retweeted, making interesting suggestions of the few things I should read).
Its classification is ok — the genre classification seems decent (news/videos/pictures) — the message type classification (Question/Opinion/Notification/Check-In/How-To/etc) seems less exact, but may still be useful.
It kept suggesting the same things so I stopped checking it regularly — but I just checked it and am intrigued since they've added some features. In particular, they seem to be pulling out keywords (you can visualize one/all of people, topics, hashtags, message types–see screenshot). That might be especially interesting when doing exploratory searches.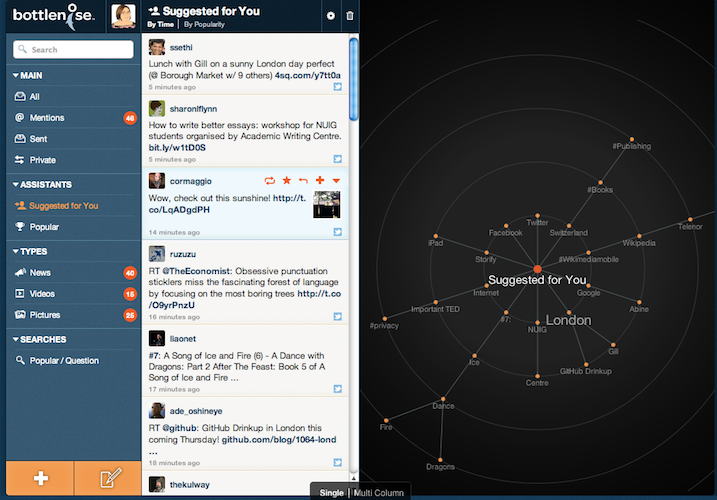 There's also a lot of customization possible — you can make your own rules for what to put in streams, and they have a wizard (screenshot below):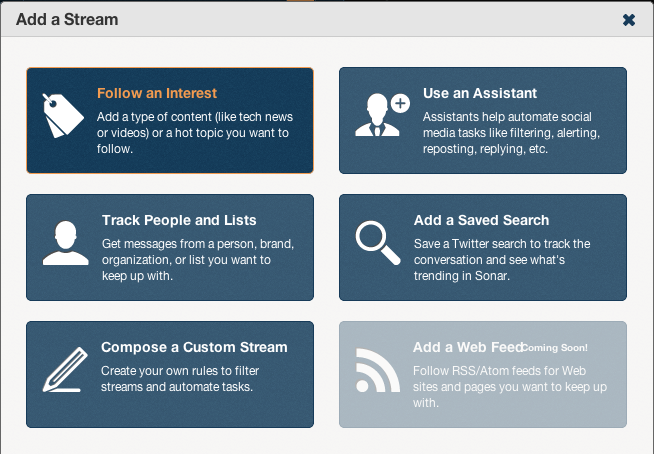 If there were a marketplace for sharing rules, that might be good — I'm not likely to spend time on customizing my own, so I'm just relying on the defaults ('suggested for you' and 'popular').
I'd be cautious of posting from Bottlenose without first checking the documentation — they accept posts of any length, but may also modify them (add hashtags, say).
I suppose for some people, the ability to pull in from multiple networks (for now Twitter & Facebook) could be useful, though there are lots of tools that do that.
I'd be curious to hear what other people think–have you found uses for Bottlenose?
-Jodi
PS-They seem to be going by klout score for invites for now; if you can't get in that way, give me a shout (I've 10 invites if you want one).
—-
I'm taking a listserv post as the source of a blog post again; channeling jrochkind I suppose.