After seeing a great local production, I decided to reread As You Like It. Before I got around to digging out my Complete Works of Shakespeare, I got a copy for my iphone.
Reading on the iphone was a satisfying experience. The screen is crisp and paging down through the text becomes automatic. Just tap in the lower third of the screen. (Paging up is not enabled, but the upper 2/3rds of the screen allow scrolling up or down.)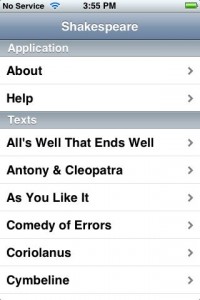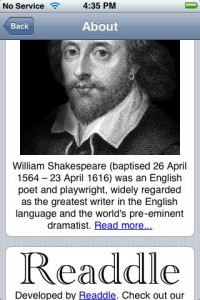 I prefer reading in landscape mode: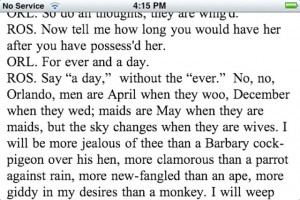 Formatting of Shakespeare's verse can be awkward in horizontal mode: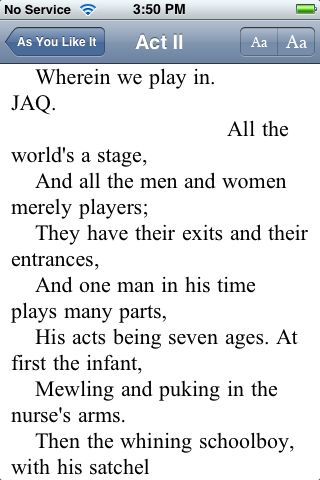 App name: Shakespeare[appstore]
Maker: Readdle
Cost: free
Bugs: Beware of losing your place when changing between landscape and horizontal screen modes. Pagination routines need to be updated.
Quirks:
Navigation and font size selection are only available in the horizontal screen mode.
Landscape mode is supported only within a text; it is not supported in the main, about, or help screens.
Features: 10 font sizes, changed by tapping buttons in horizontal screen mode. Navigating down through a text is easy: tap on the lower third of the screen.
Other reviews: A video overview starts at 1:18 of this T4 videopodcast.