May 7th, 2012
I noticed that GMail is warning about missing attachments and heard that Thunderbird does this, too, from Arber Borix, who also responded to a request for a screenshot (below). Thanks, Arber!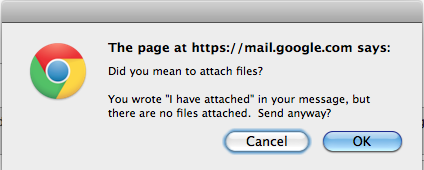 Tags: attachments, email, reminders, textmining
Posted in random thoughts | Comments (2)
2 Responses to "Attached?"
Arber

Says:

May 7th, 2012 at 8:40 pm

Thunderbird is, in fact, getting better. Its add-ons could make it comparable to GMail in terms of organizational power, I'd suppose.
Leave a Reply