Last night I popped into Second Life for a poster session. JCDL 2009 is going on in Austin this week, and several of the posters were on display in the Digital Preserve region of SL. Chris Beer asked for some screenshots.
Here's the whole poster space from outside. (Click each image for the ginormous full-size screenshot.)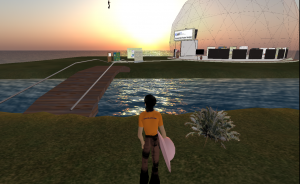 My avatar (TR Telling) is in a bright orange UIUC GSLIS T-shirt, thanks to a class tour Richard Urban led last year. With a closer look, you can spot the screen that was used to project MinuteMadness.
Here are two posters, "Finding Centuries-Old Hyperlinks" and "Toward Automatic Generation of Image-Text Document Surrogates to Optimize Cognition".

Poster numbers were used for the best poster competition, I believe.
Large text-sizes really help viewing from afar; deft users can get a closer view with 'mouse look'. I took a second screenshot of the "Finding Centuries-Old Hyperlinks" poster since it was my favorite. Xiaoyue (Elaine) Wang and Eamonn Keogh suggest cross-referencing manuscript pages using icon similarity.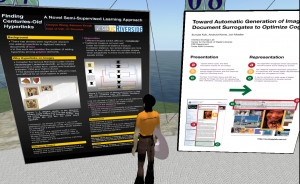 Handouts could be really useful for a SL poster session — I had to settle for taking screenshots. Clicking on the poster could give a copy of the poster, which could include links to more information. A mailbox could facilitate sending messages to the presenters.
One presenter 'attended' from New York. Several people are gathered around her poster, which generated a lot of discussion.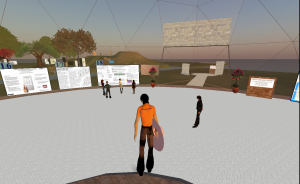 In the left corner you can see one of the more visually striking posters, a study of LIS students' impressions of the Kindle, after using it for something like 3 weeks.
To the right of the entrance is a sign that says "What did you think?", which linked to a comment form to be completed on the Web. I succeeded at that box, but wasn't able to figure out how to submit a second, in-world comment form.
My avatar is just stepping down from a rotating lazy-susan which held a striking comment box. Getting a comment form and filling it out was straightforward. However, dragging and dropping the form back onto the box, as suggested, didn't work for me.
I had several interesting conversations, most notably a chat outside in the Poster Garden with Javier Velasco Martin who helped build and furnish the Preserve. Ed Fox was easily identifiable: his avatar's first name is EdFox. For social gatherings, handles are useful, but for professional gatherings it can be reassuring to know who you're talking with.
Here's one last look at the dome from the outside. I love the bright aqua JCDL lettering. And, what trip to Second Life would be complete without some flying?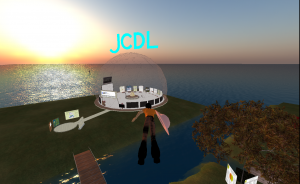 With a closer look, you can see the large comment box in the center of the dome.